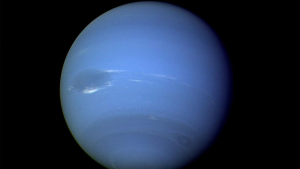 Neptune is the second planet not known to antiquity. The planet was not discovered before 1846. The first to see Neptune was the German astronomer Johann Galle.
The Frenchman Urbain Le Verrier had predicted the existence of Neptune and its position in the sky. He wrote a letter to Galle and asked him to search for the planet. Neptune was found less than one degree from the predicted position – a most impressive accomplishment!
One year on Neptune takes 60 190 Earth days. One day on Neptune lasts about 0.67 Earth day equivalent to 16 hours 5 minutes.  A calendar year on Neptune therefore has 89 662 Neptune days.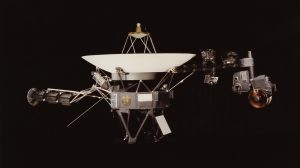 The American Voyager 2 (1989) is the only man made spacecraft to date to have flown past Neptune.
Neptune has several dark spots, and the largest spot was observed in 1989 by NASA's Voyager 2 spacecraft. In contrast to the large red spot of Jupiter witch is a cloud system, Neptune's dark spots are areas with very few clouds.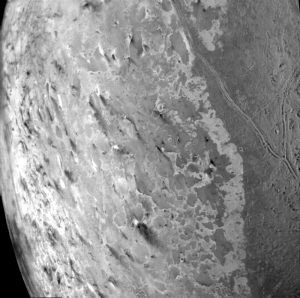 Neptune's moon Triton is pretty special: It does not rotate around its axis in the same sense as Neptune in the same direction as the planet does, witch is normal for moons formed at the same time as the planet. In addition, Triton orbits Neptune in the opposite direction as moons usually does. One possible explanation is that Triton is a captured asteroid from the Kuiper belt.
Another unique feature of Triton is its many cryo-vulcanoes that spews smoke-columns into the thin atmosphere of the moon. On the image, top left, dark fall-out from the smoke is seen as dark streaks on the surface. Other images shows how the smoke columns rises vertical and then turns 90° and drifts parallel to the surface.